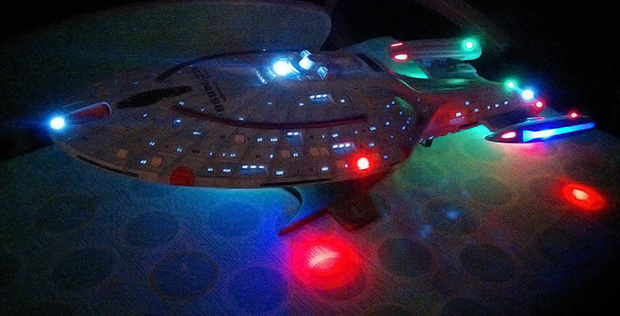 This is a Star Trek Voyager model kit from Revell that I constructed and painted up last year as a present for a good friend's Birthday.
Over the course of a couple of weeks I created a custom LED lighting setup from scratch to go inside, along with having to drill out and file down the vast majority of the windows to allow the light to shine through the hull sections.  The inside surfaces were then covered in foil as reflectors to help disperse the light for the windows more evenly across the model.  I also fitted a small power socket under the model behind the base (which you can see in the picture below) allowing the lights to be run off of a spare 5v adapter that I had lying around. 
Then, running out of time, I ended up doing the paint job that you see below along with applying all the transfers pretty much in a single day with some final touches on the morning that I was to give it away.
It's easily one of the fastest things of this scale that I've constructed and painted before in this short time frame and thankfully I think it turned out reasonably well.  At least my friend, being a big Voyager fan, was really happy with it so that's the main thing :)